About myself…
My Name is Sandra and I was born in 1976. The love to horses had already grabbed me, when I was a child.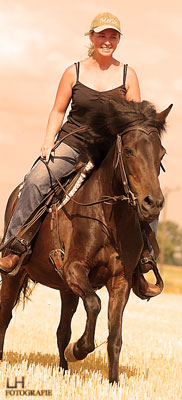 I got my first horse in 1997 and since 2001 I have kept my horses single-handedly on the farm of my parents in the beautiful little city called Wachtendonk. Ever since I´ve lived here with my husband René, the Hovaward Diego, Tiritar, an Aegidienberger mare, born in 1990, her son Pancho (*2009) and a Quarterhorse mare, born in 2007, called Peppe.
I decided very spontaneously to my training on the hoof career. Just one month after the decision "that´s what I want to do" I started the first course at  BESW Berufsakademie. On October 15th in 2011 I could finish my training as a test best with the result "very good".